NASCAR Cup Series
Champion: Kyle Busch
Why Kyle Busch? Busch has won an average of 4 races per season over the past 10. He has won at every track and won every race except the Daytona 500.
Busch will win: Daytona 500, Las Vegas-1, Homestead, Martinsville, and Charlotte in through May 31. Then, he'll win at Sonoma, Pocono, Darlington and Daytona (Sept.). He'll be the regular season champion again.
In the Playoffs: he'll win ISM Raceway.
Rookie Of The Year: The 2020 rookie Class will be intriguing to watch. Based off the competitiveness of each organization, however, Cole Custer will have the best shot to do it. Custer is my pick to be Rookie Of The Year in 2020.
NASCAR Xfinity Series
Series Champion: Chase Briscoe
24-year-old Chase Briscoe, the sophomore driver for Stewart-Haas Racing, had a break-through season in his rookie season. He won a race and threatened the "Big 3" for a spot in the Championship 4. He was leading late in Kansas Speedway until bad luck struck him. Not to mention his finishes got stronger each week late in the season.
Of the two sophomore drivers, Briscoe is more patient. Briscoe has more self-control so he is more viable for a win at any track. He will win at least three races: Homestead-Miami, Charlotte and Chicagoland in the regular season. In the Playoffs, he'll he'll win at Richmond, Kansas and ISM Raceway.
Rookie Of The Year: Harrison Burton
Harrison Burton will be consistent enough to make the Playoff and maybe advance to the Round of 8. So he'll win the Rookie Of The Year, on the merit of qualifying for the Playoffs, especially when his closest contender will finish no higher than 8th in Points.
The Gander Outdoors Truck Series changed its logo again yesterday. The new name is the NASCAR Gander RV & Outdoors Truck Series.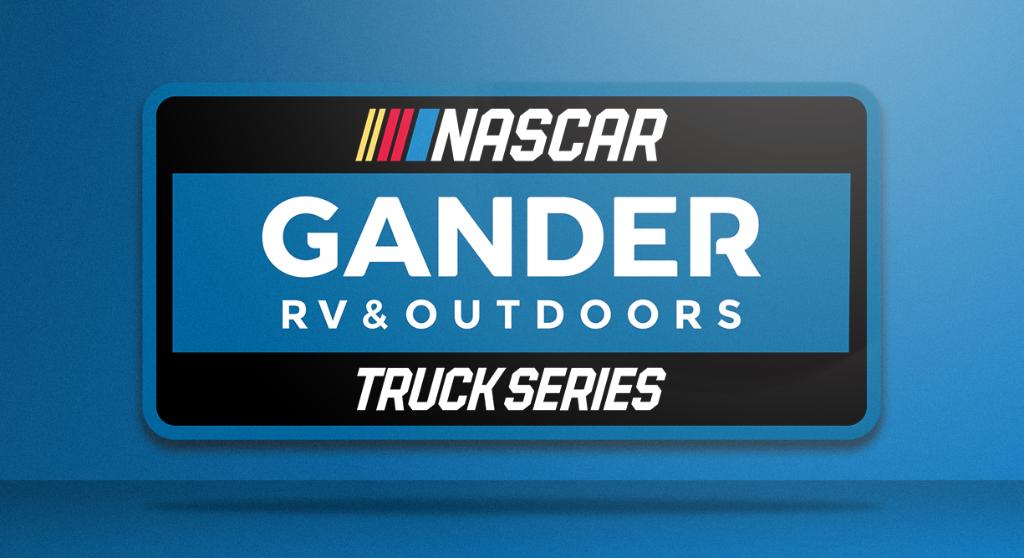 Photo provided by Jayski.com
GMS Racing continues to make waves within the garage area. Moffitt and Creed return for another full season. But the team confirms Moffitt will have a new chief next season. They have added 2018 Rookie Of The Year Tyler Ankrum last week. Then, Zane Smith was added to their already stout line-up yesterday. I surmise Smith will not be Rookie Off The Year though. However, he will be a placeholder at GMS while Jimmie Johnson spends one more year in Cup and Noah Gragson spends one more year in Xfinity.
Champion: Austin Hill
In his 2nd season at Hattori Racing, Hill will come back with bold confidence and fierce determination in his quest for his first series title. Hattori Racing has shown they have what it takes to win a championship and beat the Championship 4 at Homestead in the past two seasons. And next season will be no different.
Rookie Of The Year: Christian Eches
Eches has shown everyone he has the skill to win races and consistency to win a championship. In fact, he finished 3rd in his previous start for Kyle Busch Motorsports at Homestead-Miami Speedway. He will win two to three races. He will make the Championship 4. Kyle Busch Motorsports needs to be relevant again; and Eches will do just that. I am actually torn between Hill and Eches but Hill has more experience. My pick might switch before 1 February but if it doesn't, my picks will be finalized.